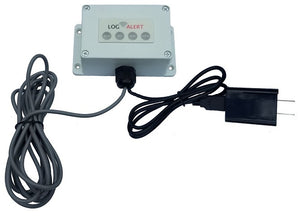 Temperature Sensor WiFi Monitoring System (up to 5 sensors)
No other temperature monitoring system on the market compares to the simplicity, inexpensiveness and expansiveness of our product.  We offer a single sensor system as well as a multiple sensor system.  The multi sensor system includes easy plug and play temperature sensors with 6.5' cables that can be extended to many different lengths (up to 50' extension cords).  In addition we offer 5 to 1 and 2 to 1 splitters that allow plug and play daisy chaining of up to 7 temperature sensors.  This system comes standard with one sensor.  Click here to add more temperature sensors to your cart and if needed click here for a splitter.
We offer the only WiFi monitoring system that includes a WPS button for a quick and easy internet connection.  No frustrating network gobbledygook to decipher... just press a couple buttons and your connected!  If you don't have a WPS enabled router you can link to it by manually typing in it's WiFi password in our easy to use system (no app required).  A web dashboard login page, username and password will be emailed to the customer following a purchase.  The user simply inputs their supplied username/password via our dashboard log-in page to access their custom web dashboard... no filling out forms or app to download.
Worried about network security?  Our system only sends out data and it does not utilize an operating system.  Consequently our system is less vulnerable to network attacks than most other IOT devices on the market.
The primary use of our systems are the reception of an email or text alert in case a value such as temperature gets out of a user's preset range.  In case of extended power or network failure our system will email or text an alert to the client.
Primary Features:
WPS button allows for easy WiFi router connection... just push 2 buttons!
Plug and play inexpensive sensors 
Up to 5 temperature sensors can be daisy chained
Free online dashboard with graph and Excel data download
Real time alerts via email and or text
Temperature Kit Includes:
System component box with sensor connector(s) and 6' power cord/plug along with any temperature sensors and accessory items you may have purchased.
Optional Accessories Include:
Temperature sensors (maximum 10 per system)
Pressure sensor 
CT electrical amperage sensors 
Water leak sensor 
Water Flow meter