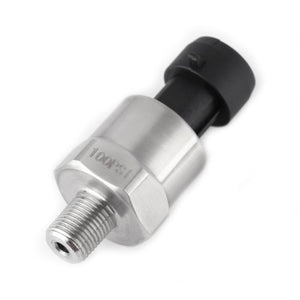 Pressure (PSI) Sensor
Use this sensor to monitor the pressure of any pressurized system including potable water. It is comprised of 304 stainless steel for maximum durability and corrosion resistance.  The sensor can easily be mounted by it's standard 3/8" NPT male threaded connection. 
Currently the water sensor will come with a 5 foot cable hard wired to the case.  It is not available with a 3.5mm plug connection.
Accurancy: 0,5%FS, 1%FS
Stability error: ≤±0,3%FS/year (not accumulate year by year)
Operating temp.: -40°F - 257°F
Zero allowable error: ±0,5%FS
Range allowable error: ±0,5%FS
Protection: IP65/IP67