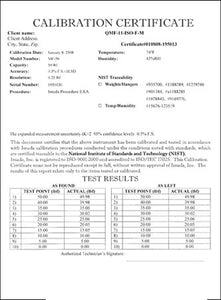 NIST Traceable Calibration Certificate
Please note it is recommended that EACH sensor should have a certificate if it is monitoring a vaccine.
If your organization has inspections or audits, your authority having jurisdiction (AHJ), which may be the CDC, FDA, USDA or your state health department, might require your business to follow certain guidelines, including having a periodic certificate of calibration done for your monitoring system. This is sometimes referred to as a Certificate of Calibration and or NIST traceable calibration. The National Institute of Standards and Technology (NIST), is a non-regulatory agency that promotes and maintains measurement standards. 

To determine if you are in need of a certificate please communicate with your authority having jurisdiction (AHJ). Typically applications such as pharmaceuticals, plasma storage and vaccine storage, require a periodic Certificate of Calibration.  Food handling facilities also sometimes have calibration and accuracy requirements as well.
Our certificate of calibrations are issued by an accredited testing lab in San Antonio, TX.  The turnaround shipping time is usually 2 to 4 business days.  Customer will receive a pdf of the certificate via email after the calibration has taken place.
The NIST traceable calibration certificate is compliant to ISO/IEC 17025:2005
Comes with a 1-Year Calibration Interval
Systems are calibrated for both fridge (5°C) and freezer (-15°C) use