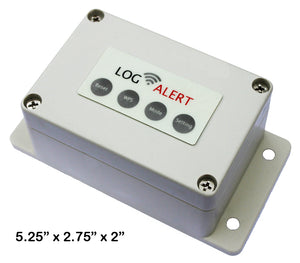 Custom WiFi Wireless Data Logger Monitoring & Alert System
No other wireless monitoring system on the market compares to the simplicity, inexpensiveness and expansiveness of our product.  We offer easy plug and play temperature sensors with 6.5' cables that can be extended to many different lengths (up to 50' extension cords).  In addition we offer 5 to 1 and 2 to 1 splitters that allow plug and play daisy chaining of up to 5 temperature sensors.  The Log-Alert system also allows for a vast array of other sensors ranging from water leak to pressure to water or electric metering pulse devices.
Unlike other monitoring systems ours includes a WPS button for a quick and easy internet connection.  No frustrating network gobbledygook to decipher... just press a couple buttons and your connected!  If you don't have a WPS enabled router you can link to it by manually typing in it's WiFi password via a smart phone (no app required).  A web dashboard login page, username and password will be emailed to the customer following a purchase. 
Worried about network security?  Our system only sends out data and it does not utilize an operating system.  Consequently our system is less vulnerable to network attacks than most other IOT devices on the market.
The primary uses of our systems are prevention of possible component malfunctions and performance verification. The user can preset specific values/conditions and when they are met an email or text can be sent to the installer and or system owner.  In case of extended power failure our system will email an alert to the client.
Primary Features:
WPS button allows for easy WiFi router connection... just push buttons!
Plug and play inexpensive sensors 
Up to 5 temperature sensors can be daisy chained
Free online dashboard with graph and Excel data download
Real time alerts via email and or text
Custom Kit Includes:
System component box with sensor connector(s) and power cord/plug along.
Optional Accessories Include (call to confirm):
Temperature sensors (maximum 5 per system)
Pressure sensor 
CT electrical amperage sensors 
Water leak sensor 
Water Flow meter 
Gas Meter